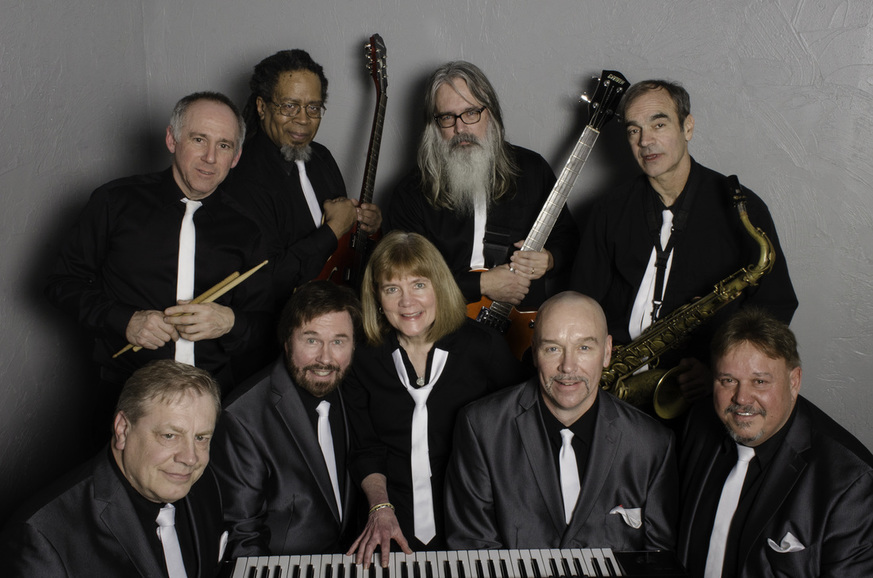 New England's Premier Doo-Wop Show Band

"The Golden Era" of Classic Doo-Wop music is alive and well. Authentic and true to form,
The
Doo-Wop DeVille Show
presents the music the way it was meant to be...All Live!!
Doo-Wop DeVille
will put a smile on your face and a tear in your eye as they transport you to the great musical spirit of 1950s and 60s doo-wop music. Whether you are young, old, or in between, the stirring vocal harmonies and captivating choreography of men sporting sharkskin suits singing to the exciting and dynamic rock-and-roll of a live band will have you clapping, snapping, dancing, and singing along with your favorite memories. The timeless music will
thrill you, delight you, and at times make you sigh, as your feet and your heart are carried away.
Testimonials
"I personally have over 30 years of broadcast experience. The great bands I have heard in that time you can name on one hand. Doo-Wop DeVille is one of them." - John E. Clark, Vice President and General Manager, WCNX Radio 1710 AM and WCNXradio.com
​
"Doo-Wop DeVille was 'oustanding' and lots of fun." - Nancy and Curtis about the New England Doo Wop Society Show with The Capris and The Tribunes "Thanks to the absolute best golden oldies band ever. You made our Neighbors Who Care fundraiser on Saturday night the best evening ever. Everyone loved your entertainment. We danced, sang along, clapped and loved every minute of your performance. Thank you so very much to each of you. The Doo-Wops are the best." - Nancy and Jim
"
Everyone who stopped and watched was impressed by ... the singing of the wonderful ... quartet Doo-Wop-DeVille who are normally a nine piece band that will take you back in time. They were a four piece band at Apple Harvest [Dover, NH] but that did not diminish any of the awesome sounds that drifted across the concourse and set the scene for the Best of Times." - Jenne Holmes of shark1053.com"Doo-Wop DeVille is comprised of folks that are friendly, fun, talented and downright passionate about their music and the era it represents. From contact to site visit, arrival at the stadium to performance, our staff and fans enjoyed every interaction with the band. We appreciated their willingness to adapt their set-up and music selections to fit our needs and space, and we'd recommend their talents to all venues looking for an interactive, spirited and professional performance." - Jenna Raizes, Senior Vice President & Assistant General Manager, New Hampshire Fisher Cats
"This was the most electrifying show Benjamin's has ever put on. It's also the first time many of our guests said they felt like they were at a real concert. Talent, professionalism, enthusiasm, and an exceptional level of energy presented in the form of 5 extraordinary musicians and 4 superb singers." - Diane Benjamin on Doo-Wop DeVille's sold-out performance at Benjamin's Restaurant